Innovation awards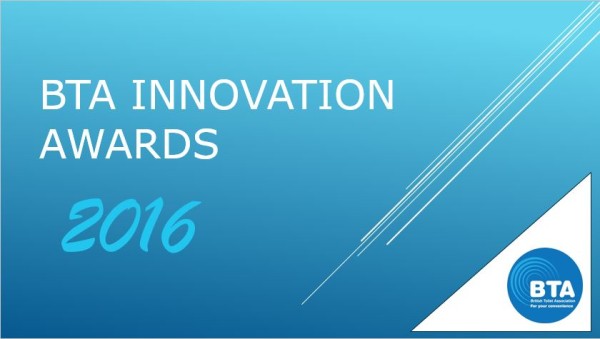 British Toilet Association:
2016 Innovation Awards
Our industry has seen many changes in recent years and the introduction of some high-tech solutions.
The awards were re-introduced for 2010 to recognise innovation in three key areas of 'away from home' provision:
New Products
New Services
Efficiency Improvements.
2016 British Toilet Association Innovation Awards
Closing date for Nominations: Wednesday 31st August 2016
The Awards will recognise innovation in three key areas of 'away from home' provision:
new products – both fitted and removable – or an additional supply to improve overall provision
new services – a job, skill or working practice that adds additional value to the user experience
efficiency improvements – management or service provision that can be measured
The BTA wants to hear about innovation that really improves the use or provision of publicly accessible toilets. Anyone can nominate a provider or supplier or their own organisation or company by sending an email to enquiries@btaloos.co.uk by close of business, Wednesday 31st August 2016. Nominations must include details of why the product, service or efficiency should be awarded a BTA Innovation Award.
All nominations will be formally acknowledged.
A panel comprising members of the BTA Management Committee will judge each nomination and decide who will gain awards. There may be more than one award in each category, dependent on the number and quality of the nominations. The decisions of the judges will be final.
Each award winner will receive a trophy designed specifically for the BTA Innovation Awards and a framed BTA Innovation Award certificate.
The awards will be announced and presented to the winners at our Conference & AGM in April
Anyone can nominate an innovative provider or supplier by downloading a nomination form and completing it. Once you have completed the form, you can return it to us by post to the address at the foot of this page; or you can scan the completed form and email it to us by email at: enquiries@btaloos.co.uk.
2016 BTA Innovation Awards Nomination Form
Please contact enquiries@btaloos.co.uk or call 02891 477397.
1st February 2016