Home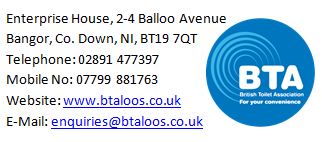 British Toilet Association Limited
Established in 1999, the BTA is a Not-for-Profit Members Organisation working to promote the highest possible standards of hygiene and provision in all "away from home" toilet facilities across the United Kingdom.

Why do we need more and better toilets?
We all need to use the toilet several times each day when we are away from our homes, at work, on holiday or simply commuting from place to place. This becomes even more urgent if you belong to one of the many specialist user groups who suffer from medical conditions that require you to have immediate access to the toilet. Just having access to clean, hygienic toilets when we need one is simply about our basic human rights and it fulfils an important requirement for our…
Health & Well-being
Equality
Social Inclusion
Privacy & Public Decency
How is the BTA helping to address these problems ?
Consultancy Services
Using our industry recognised independent expertise, we can work with you to create the most effective toilet provision for your organisation and its users.
Information Services
By utilising our collective expertise, we can try to answer nearly every toilet related question posed by our members. Join us now and help increase our knowledge.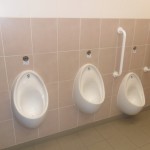 Legislative Issues
Every toilet provided must adhere to a number of key legislative requirements including:
BS 6465 – parts 1-4
BS 8300
Building regulations parts M & R
Equality Order – formerly the Disability Discrimination Act
British & European Standards
Members have access to advice and guidance on these and many more regulatory requirements.
Changing Places Toilets


We are extremely proud to be working with Mencap, Pamis and the Changing Places Charter Group. All the organisations involved have set their goals to increase the overall provision of specialised toilet units throughout the United Kingdom. Together we have launched the Changing Places Toilet Map which is a system to locate and identify CP facilities and check their internal provision. Further details can be found under the CP Tab on this site.
Best Practice Guide & Training Services
Our guides, services and publications help members improve the standards and levels of provision and cleaning within their own facilities.
Market/Consumer Research
Members views and opinions form an important part of the many market research and consumer projects which we undertake annually.
Help us to campaign for better toilets !
Membership
The Association, as a whole, has a wealth of knowledge on toilet related issues and practices and every day it handles a constant stream (pun intended?) of enquiries or applications from everyone who has a real desire to improve the current provision, as well as reduce the number of toilet closures. We support consumers and suppliers alike on the future development and installation of  more hygienically clean publicly accessible toilets across the country. We're always keen to broaden our knowledge base and welcome a range of new members. Full information on the benefits and how to join us is contained on our Membership page above!
A Voice for the Industry. Why not add your voice and make us stronger?
The BTA welcomes every opportunity to draw down Media activity and publicity material which highlights issues around publicly accessible toilets. In particular Radio & TV opportunities are sought and used to expound the company's campaign message to wider and wider audiences This would include articles and editorial in many of the leading cleaning journals as well as producing our own information guides, manuals and facts sheets. We help to promote the Truckers Toilets Newsletter and a Problem Reduction Guide and will use every opportunity offered to stop the decline in clean, hygienic and available public facilities.