Truckers' Toilets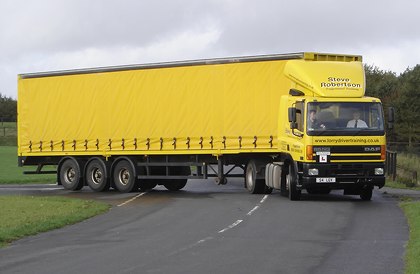 TRUCKERS' TOILETS UK
Who hasn't grumbled about being stuck behind a lorry or muttered when they've been overtaken by an eager truck? Yet how many of us think about the drivers and their toilet needs? I would venture to say not many. Whilst a large number of us work in an office with toilets easily accessible, the working environment of the lorry driver is the road, with loos – and suitable parking areas – few and far between. Does this have an effect on their health and wellbeing?
Aim of the study
 As a member of the British Toilet Association I am carrying out a study to investigate the extent to which the reduced number of toilet facilities may affect the health and wellbeing of lorry drivers.
The study is being conducted to determine the current situation in the first instance, with the ultimate aim of suggesting ways in which the working environment for lorry drivers could be improved. It is anticipated that any proposed actions might also benefit other mobile workers.
Investigation
Interest from lorry drivers' organisations has been very positive and I hope their members will respond with equal enthusiasm to the questions raised from the list of topics provided.
Every study requires evidence and an exploration of previous research, but initial enquiries suggest that this is not a subject that has been previously investigated medically. Thus a great deal of lateral thinking is being deployed to find any possible relevant papers! If anyone is willing to share their knowledge of any such studies with me I would be most grateful. In the meantime I shall continue investigating this hitherto neglected field of toilet requirements for mobile workers and will be pleased to update you on progress.
Gillian Kemp, MA
gillian.kemp@ntlworld.com
Member, British Toilet Association
You can download a copy of our 'Trucker's Toilets UK' Newsletter from the Campaign here …
TTUK Newsletter – November 2013
TTUK Newsletter – December 2013
TTUK Newsletter – January 2014
TTUK Newsletter – February 2014
TTUK Newsletter – March 2014
TTUK Newsletter – May 2014
TTUK Newsletter – June 2014
TTUK Newsletter – July 2014
TTUK Newsletter – August 2014
TTUK Newsletter – September 2014
TTUK Newsletter – October 2014
TTUK Newsletter – November 2014
TTUK Newsletter – December 2014
TTUK Newsletter – January 2015
TTUK Newsletter – February 2015
TTUK Newsletter – March 2015
TTUK Newsletter – April 2015
TTUK Newsletter – May 2015
TTUK Newsletter – June 2015
TTUK Newsletter – July 2015
TTUK Newsletter – August 2015
TTUK Newsletter – September 2015
TTUK Newsletter – October 2015
TTUK Newsletter – November 2015
TTUK Newsletter – December 2015
TTUK Newsletter – January 2016
TTUK Newsletter  – February 2016
TTUK Newsletter – March 2016
TTUK Newsletter – April 2016
TTUK Newsletter – May 2016
TTUK Newsletter – June 2016
TTUK Newsletter – July 2016
TTUK Newsletter – August 2016
TTUK Newsletter – September 2016
TTUK Newsletter – October 2016
TTUK Newsletter – November 2016
TTUK Newsletter – December 2016
TTUK Newsletter – January 2017
TTUK Newsletter – February 2017