Monthly Archives:
July 2021

23 July 2021
The British Toilet Association has called for improved legislation and more government funding to address the current "appalling" lack of public toilet provision.
Public toilets are in "crisis" and rapidly vanishing, the body said, with many of those that remain displaying totally unacceptable levels of cleanliness and hygiene and the COVID-19 pandemic has only made the situation worse.
Many public toilets have been locked down since the start of the pandemic due to a lack of cleaning, funding or any government guidance on how to get them fit for purpose, The British Toilet Association (BTA) said.
The public was being forced to go to the toilet in streets, beaches, open spaces and beauty spots, causing street fouling figures to escalate, aggravating the risk of COVID-19 transmission and leaving the local authorities to foot considerable clean-up costs, it added.
"Anyone suffering with an accessibility issue or those caring for someone who has limited mobility or a medical condition is socially excluded and potentially deemed prisoners in their own homes."
–Raymond Martin
Managing Director, BTA
No Legal Requirement for Local Authorities to Provide Public Toilets
With no legal requirement in place to force local authorities to provide or run public toilets then, the BTA believes the majority of councils across the UK do not allocate sufficient resources or funds to the provision of public toilets.
It is calling for the government to make sanitation and hygiene a major priority and support local authorities to stop the closures, open new facilities and establish a new set of standards of hygiene and cleanliness.
The BTA has been lobbying for action since the pandemic began, asking questions of Ministers and the PM, writing to Ministry of Housing, Communities and Local Government and has taken part in a Zoom meeting with Lord Stephen Greenhalgh, the Minister for Building Safety and Communities and other Members of the House of Lords but without an adequate response.
It is currently preparing to write again to Lord Greenhalgh and also to the new Health Secretary, the Rt Hon Sajid Javid.
The BTA is a not-for-profit organisation that campaigns for the highest possible standards of hygiene and provision in all "away from home" toilet facilities across the UK. It understands that over a third of the population need to visit a toilet on an urgent basis, often at very short notice.
BTA Managing Director Raymond Martin said: "We are appalled at the total lack of funding over many years and extremely concerned at the closures and unprecedented low levels of public toilet facilities before, during and going into the future. This is now a crisis.
"Across our beautiful country, that was once the envy of the world because of its sanitation systems and hygiene controls, those responsible have allowed us to fall so far from the standards our forefathers achieved.
"Then along comes one of the deadliest pathogens for many generations and unbelievably our ministers and their government colleagues cannot see the need or make available any primary funding to tackle and fight this continuing threat to our nation's daily existence.
"From the very first announcement of the arrival of COVID-19 the government has been repeatedly telling everyone to "wash your hands" but how much money has it allocated, spent or even committed to increasing sanitation and hygiene during a pandemic? The answer is nothing.
"Hand washing materials cost money, hot water costs money, cleaning materials and staff cost have to be factored in, as well as the return to an acceptable level of provision.
"The lack of public toilet provision leaves families with young children, business travellers, drivers delivering our daily essentials across the country, staycationers, day-trippers those on longer holiday breaks, older persons wanting to visit family and many more people wondering when they might find relief.
"COVID is transmitted in human excrement and urine so forcing the public to use our open spaces to go to the toilet can only be a recipe for continued or increased transmission and incubation of this most deadly pathogen and any future variants."
Accessibility Issues
"Anyone suffering with an accessibility issue or those caring for someone who has limited mobility or a medical condition is socially excluded and potentially deemed prisoners in their own homes.
"Footfall in shops and many high streets continues to remain low as the lack of decent toilet facilities is driving shoppers away to out of town superstores, leaving the villages and town shops with diminishing revenues and the constant threat of closure.
"The BTA has spent the last eighteen months primarily firefighting the lack of publicly accessible toilets across the UK but with very limited success without the support of this government.
"It's time that this government made sanitation and hygiene a major priority and supported the local authorities to stop the closures of public toilets, restore standards and tackle this pandemic in our public buildings and spaces."
Picture: a picture of a toilet
Article written by Ella Tansley | Published 23 July 2021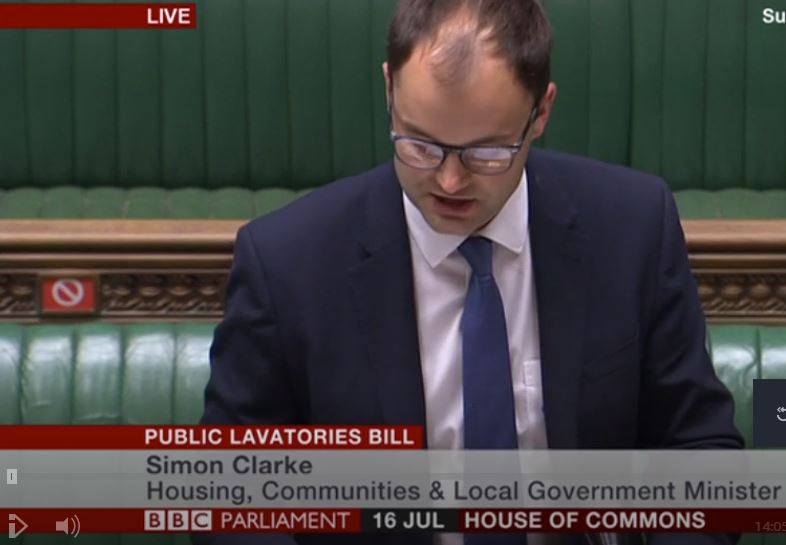 From a story by Dan Bloom Mirror Online Political Editor in June 2020
Local government minister Simon Clarke and environment minister Rebecca Pow wrote to council chiefs today urging them to reopen loos.
Public toilets told to reopen as outdoor wees pose 'harm to public health' Ministers have written to council chiefs in England to end the lockdown practice of people 'relieving themselves in public. People are being urged to spend their hard earned pounds to boost the local economy – but many can't even spend a penny. The government has demanded public toilets reopen after warning the number of people relieving themselves outdoors poses a "harm to public health".
Ministers jointly wrote to town halls in England today calling on them to reopen any loos that are still shuttered to stop the spread of Covid-19. Toilets in parks and other public places were closed from March to prevent transmission of the virus. But that has left many people in a tight spot as parks reopen to social groups of up to six people – but many toilets do not.
They said: "Councils should consider the harm to public health and the local environment caused by people relieving themselves in public." The ministers warned the situation has got worse as the weather heats up. Many sufferers with bowel conditions have told of avoiding trips outdoors altogether due to anxiety about where to find a toilet.
They added:"Public hygiene is of the upmost importance, especially during the CORONAVIRUS pandemic, and enabling residents to access toilets safely is vital. Handwashing is an extremely important activity to help prevent the continued spread of the virus.
"Enabling residents to access toilets safely is vital.
Handwashing is important" Closed toilets may also impact disproportionately on certain groups who for health reasons rely on access to public toilets to be able to leave their homes.They can also make life difficult for young families and people who work outside. If you have toilets that are still shut, then we strongly urge you to refer to advice on measures that can be taken to open toilets in a safe way."
A spokesman for the Local Government Association (LGA) said:
"Councils have been taking individual local decisions about public toilets they control based on a risk assessment basis, if they can provide adequate cleaning staff and schedules and, of course, whether the governments social distancing measures can be maintained."
QUESTION: How can a Minister ask an Authority to put its precious time and resources into something that neither he nor his own government see any advantage in supporting or funding. Without PRIMARY legislation and the appropriate budget to encourage proper clean and hygienic publicly accessible toilets then these appear to be, SADLY, just hollow words.