Mencap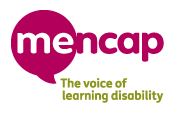 Mencap work in partnership with people with a learning disability, and all their services support people to live life as they choose. Mencap works exclusively with and for people with a learning disability, their families and carers. They employ more than 6,000 staff supporting over 4,000 people with a learning disability. Mencap is the only specialist provider of housing and employment services for people with a learning disability, and they are the leader in their sector. Mencap is well-positioned to move forward with the government's individualized care agenda as they already have services in place and a strong network of delivery partners.
Their work includes:
providing high-quality, flexible services that allow people to live as independently as possible in a place they choose
providing advice through helplines and websites
campaigning for the changes that people with a learning disability want.
Mencap have strong relations with a local network of more than 500 affiliated groups. Their local groups are individual charities in their own right, but they work closely with them to ensure people with a learning disability and their families have support locally as well as nationally.
Mencap is the leading voice of learning disability. Everything they do is about valuing and supporting people with a learning disability, and their families and carers.
Mencap's vision, mission and values
Their vision is a world where people with a learning disability are valued equally, listened to and included. They want everyone to have the opportunity to achieve the things they want out of life.
People with a learning disability and their families have set out in their Mencap manifesto what is needed to make their vision and rights a reality, these are:
To be treated as equal citizens and have control over their lives.
To have a childhood like any other child.
To live independently as adults.
To have support to get a job.
To have opportunities to lead fulfilling lives – both for people with a learning disability and family carers.
To receive good healthcare.
To have sufficient income and be economically active.
To have opportunities for friendships, relationships and a family life.
Their values
Being people centred.
Empowering, including and respecting all people.
Challenging wrong ways of thinking about learning disability.
Transforming lives.
Being brave and developing new ideas.
Mencap's basic values have not changed in recent years. They will, however, explore
whether they are expressing them in the most effective way.
Their mission
Their mission is how they seek to deliver their vision. They have reworded their mission in a new way, in Shaping Our Future: Mencap's corporate strategy, to show more clearly what they actually seek to do. They strive to promote change on three levels:
To change society's attitude and culture.
To influence people who shape policy and practice.
To empower and directly support more individuals to live fulfilled lives.
Mencap
123 Golden Lane
London EC1Y 0RT
Telephone:  020 7454 0454
Fax: 020 7608 3254
Information, advice and Mencap services in England
If you live in England and would like impartial advice on all learning disability issues, please contact:
Mencap Direct
Telephone: 0808 808 1111
Email: help@mencap.org.uk
Mencap Direct telephone line is open 9am – 5pm Monday to Friday.