CP Toilet Map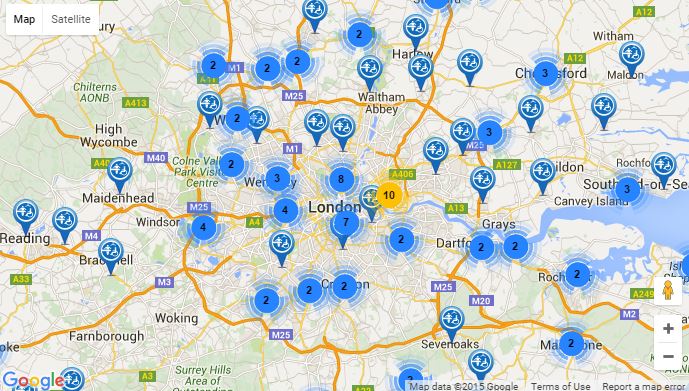 BTA LAUNCH NEW TOILET MAP
for CHANGING PLACES FACILITIES
Thursday 19th November 2016, World Toilet Day, saw the release of a brand new toilet mapping system specifically designed for the thousands of individuals across the UK who are suffering from PMLD (Profound and Multiple Learning Difficulties) and supporting their families and carer's.
Users can now search for an individual Changing Places toilet simply by entering a city, town, street or even postcode or they can even Plan a Route to see multiple sites  if they are travelling away from the their home location. The map will display the exact location of over seven hundred and eighty (780) toilets across the UK and then expand the information to show opening & closing times as well as vital information on the overall provision within each toilet for their specialised needs. Photographic identification is also used to help users recognise the exact location and confirm that the unit is adequately provisioned for their visit.
To view the new site simply visit the Changing Places website and click on the Find a Toilet link.
The Changing Places campaign continues to search for new and exciting locations across the country and each new site will be added automatically to the Toilet Map as it becomes officially registered.
The Changing Places Toilet Map system was exclusively developed by the BTA in partnership with Mencap and Pamis, the two leading charities working in this field.
It is now administered by
Muscular Dystrophy and Pamis 
Development funding was received from the Department of Communities and Local Government as well as the regional devolved administration in Scotland, Wales and Northern Ireland following an initial start-up grant received from the British Cleaning Council.
---
The Changing Places Consortium believes that the current Changing Places Toilet Map accessible via the Changing Places website needs to be replaced because it does not fully meet the overall requirements of the current and future users. They propose to work closely in partnership with the British Toilet Association to develop a replacement.
The BTA has created a Toilet Map Study Group (TM) and invited industry experts to join us to jointly oversee all the developments of this project.  
We will be responsible for creating and managing the new system on our behalf to ensure that the information is up-to-date and accurate. We believe this approach has many advantages for our users including:
enhanced usability
additional critical functionality e.g. trip planner and ability for users to save location details for 'favourite' toilets
system resilience
system accuracy, stability and longevity
The new map will also produce an accurate database which provides the opportunity for interrogation of the data and identification of where provision is lacking and where new sites are needed.
Mencap and  ourselves will be maximising the available data input from both organisations and will be able to produce a series of management reports to assist the Changing Places Consortium to identify opportunities for expanding the network and establishing new sites.
The initial scope will be to recreate and replace the existing Changing Places website map with a highly detailed and extremely accurate CP toilet map for the UK – currently around 710 sites. However the database will continue to increase and our targets are working towards approx 1,000 sites. We will be using GOOGLE mapping software that is instantly recognizable and easy to use but which allows us to integrate with many other mapping scenarios and consequently, it will produce an application for our users to easily identify and find every CP toilet facility. The system record for each toilet will have an extensive Information Profile Sheet (IPS) which will provide details of the exact toilet locations, opening & closing times and all the facilities contained, particularly fitments which are vital to those with a disability, the elderly and their careers.
The CP Toilet Map will be accessible using your PC, Laptop, Tablet and various Mobile devices.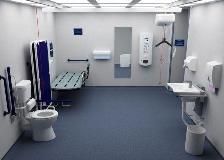 This type of mapping development work has been attempted in many other countries, including the UK, with vastly varying levels of success. Many maps were created but due to a lack of time commitment or financial resources most have failed to provide concise detail and accurate data pertaining to each individual site.
A considerable number of APP's have also been developed and published but many of these appear to have been devised by students and individuals testing the market to try and secure major funding. When this was not forthcoming they simply stopped adding or updating new information and these APP's are now extremely out-of-date.
The BTA in partnership with Mencap and Pamis will be in an unenviable position of having a constant influx of information and data that will allow us to constantly update and revitalise our CP Toilet map site – thereby supplying all users with the most current and accurate information on accessible units that are open and ready for use. As new sites are discovered, encouraged and added they will be positioned immediately.
Working in partnership with