About Us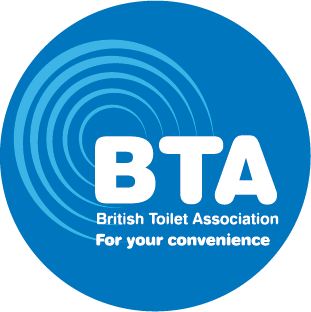 The British Toilet Association was launched at the May 1999 Public Toilet Seminar and it commenced activities/trading in June. The BTA took over the role of All Mod Cons, founded in 1985 by Susan Cunningham and managed through its early years by Ray Fowler, both of whom were previous directors of BTA Ltd. Along with its then Managing Director, Richard Chisnell.
It is a Not-for-Profit Members Organization working to promote the highest standards of hygiene and overall provision in all "away from home" toilet facilities across the UK. It is funded primarily through membership subscriptions and relies greatly on both Corporate sponsorship and attracting additional funders to support its campaign & activities
In 2016, the Association has around one hundred members and their views are represented through a Management Advisory Committee, who assist the current managing director to steer the organisations campaigning and consultancy roles and plan its future activities
Honorary President                        Richard Chisnell
Managing Director                          Raymond Martin
Chairman                                          Simon Hollingbery
& Committee  Member
Committee Member                       Andrew McIlduff                 Danfo (UK) Ltd
Committee Member                       Piers Dibben                        Healthmatic Ltd
Committee Member                       Trudi Osborne                       Airdri Limited
Committee Member                       John Tweddle                       Westminster City Council
Committee Member                       Roger Berry                          Political Adviser
Why do we need more and better toilets?
There are an increasing number of specialist user groups, whose lives are affected by the state of Britain's public toilets. These include people with mental or physical disabilities and their carers; the infirm or elderly; people with babies or young children and people of all ages who are coping with a range of medical conditions.
Britain's population has an increasingly significant 'ageing' profile
Residents travel more within the country, and the number of visitors to Britain increases each year, placing added pressure on our existing toilet facilities
Public health and hygiene, as well as environmental issues, are constantly in the news, with increasing media interest in all matters relating to public toilets
Public toilets are the 'shop window' for any area or establishment – where first and lasting impressions of levels of customer care are made
What are the British Toilet Association's Objectives?
To focus attention on issues relating to the provision of public or 'away from home' toilets
To campaign for appropriate legislation relating to the provision of public toilets by Local Authorities
To campaign for high standards of public or 'away from home' toilets in all areas, including municipal locations, health, education, transport, leisure, hospitality and retail establishments
To campaign for the provision of an adequate number of facilities for women, in relation to the number of facilities provided for men.
To campaign for adequate facilities for specialist user groups, such as wheelchair users, the elderly, babies and young children and people with medical conditions.
To campaign for the provision of secure, fully attended public toilet facilities, with extended opening hours.
To campaign for the eradication of all types of social misuse and vandalism in public toilets.
To provide a forum for public toilet providers, contractors, suppliers and users to share concerns and ideas and communicate best practices.
To provide consultancy and information services to Association members on a range of relevant subjects.
To establish links with similar Toilet Associations in other countries