TV special for BTA Chairman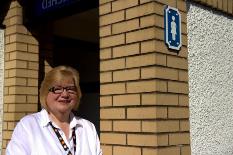 BTA Chairman featured on BBC TV.
Jasmine Wilson, Head of Cleaning Services at Ceredigion County Council, was  featured on a recent TV series of four programmes transmitted on BBC Wales called Cardigan Bay Coastal Lives
Viewers will be shown a day in the life of Jasmine and her team as they continue on their mission to achieve the highest hygiene standards possible in the county's public conveniences. Over the years Jasmine and her team have won many awards, primarily 18 Platinum Awards and 12 Gold Awards for the county's facilities.
On her experience of taking part in the TV series, Jasmine said: "I am pleased to have been involved and to showcase both my own and the team's commitment to our profession. I hope the viewers will have the opportunity to see what we achieve in our daily work, and to appreciate that it adds to their experience and comfort of living in or visiting our beautiful county and coastline."
During her career at the council, Jasmine has received numerous prestigious awards and honors for her commitment to her field. In 2012 she was the recipient of a BTA Lifetime Achievement Award . Jasmine has been a member of the BTA Management Advisory Committee for several years and she became the current chair of the Association in April 2015.
Cardigan Bay Coastal Lives follows the rich and varied lives of some of those living along the coastline.
The series aired on:
Tuesday,   3rd November;
Thursday, 5th November;
Tuesday,   10th November;
Thursday, 12th November.