World Toilet Day 2015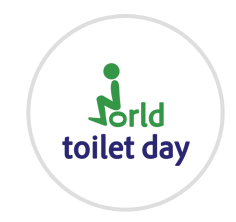 Thursday 19th November 2015
The World Toilet Organization was founded on 19 November 2001 and the inaugural World Toilet Summit was held on the same day, the first global summit of its kind. They recognised the need for an international day to draw global attention to the sanitation crisis – and so they established World Toilet Day on 19th November. WTD has continued to garner support over the years, with NGOs, the private sector, civil society organisations and the international community joining in to mark the global day, and it continues to promote global discourse and debate on toilets and sanitation.
World Toilet Day is THE day for action. It is the day to raise awareness about all the people who do not have access to a toilet, and the urgent need to end the sanitation crisis. And it is the day to stand up (or sit down or squat if you prefer) to do something about it.

Why Do We Need A Day For Toilets?
The 'silent' sanitation crisis is a ticking time bomb which affects billions of people around the world.
When the World Toilet Organization was founded in 2001, the subject of sanitation received little media attention and it was severely neglected on the global development agenda.  Sanitation has become more of a priority for world leaders in the 14 years since the World Toilet Organization was founded, however the current level of prioritization is still far from what is needed, given the scale and impact of the sanitation crisis. It's time for toilets to be treated as an urgent global priority.
What's So Urgent?
– 1 in 3 people on this planet still don't have access to a clean and safe toilet.
– 1,000 children die each day due to poor sanitation.
– And better sanitation supports better nutrition and improved health, especially for women and children.
We can't wait while a lack of access to sanitation affects health, education, gender equality, nutrition, the environment and the economy! And in the words of WTO founder Jack Sim, "What we don't discuss, we can't improve." We need to continue to address the taboo nature of toilets and shine a spotlight on sanitation each World Toilet Day.
The Impact 
World Toilet Day is celebrated globally by NGOs, UN agencies, the private sector, civil society organisations and the international community. In 2013, a joint initiative between the Government of Singapore and the World Toilet Organization led to Singapore's first UN resolution, entitled "Sanitation for All", calling for collective action to address the global sanitation crisis through the commemoration of World Toilet Day. The resolution was co-sponsored and adopted by 122 countries at the 67th session of the UN General Assembly in New York. On July 24, 2013, World Toilet Day on 19 November became an official UN day. Each year WTD calls on the global community to do more to address the sanitation crisis.
How to Raise a Stink for UN World Toilet Day
Sustainable sanitation is a matter of dignity, equality, and safety, and is crucial to improving the health and wellbeing of one-third of humanity. So what can you do to help make 'sanitation for all' a reality this World Toilet Day? Whether you want to raise a stink and build awareness of the sanitation challenge, advocate for change, fund raise for us, hold an event, or join an Urgent Run, we want you to celebrate UN World Toilet day in a way that suits you best. Here are just a few ideas on how you can join the global 'movement' and be a part of the change.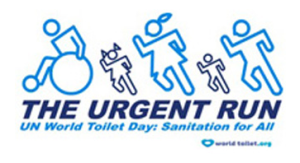 The Urgent Run
The Urgent Run is World Toilet Organization's annual event for UN World Toilet Day to call for urgent action to end the sanitation crisis. You can be part of this global run by: organising  or joining an event near you. Join the global Urgent Run, visit www.urgentrun.com
Fundraising in a Flush
Do you want to fundraise for our crucial sanitation projects? The Fundraising in a Flush guide is packed with useful tips and resources to make your UN World Toilet Day a great success. Or you can put your own creative ideas in motion for something meaningful and impactful.
Download the Fundraising in a flush guide.
Raise a Stink
The "Raising a Stink for Sanitation" Advocacy Pack provides information about the sanitation challenge, and some suggestions for how you can raise a stink for sanitation in your local area.
Download the Advocacy pack
Invest in Sanitation
One-third of the world's population still lacks access to adequate sanitation. Every dollar donated to World Toilet Organization for UN World Toilet Day goes a long way. You can fuel the World Toilet Organization's efforts in advocacy, education, capacity building, and social enterprise projects by making a donation here.
UN WORLD TOILET DAY 2015
The theme for World Toilet Day 2015 is better sanitation for better nutrition, which draws attention to the need for better sanitation to improve health and nutrition for everyone, everywhere. Visit the official UN World Toilet Day website to find out more about what's happening around the world how you can get involved. Read up on why the UN adopted World Toilet Day with the 'Sanitation for all' Resolution.
Start at School
Schools can join the fight for sanitation for all by engaging students with UN World Toilet Day. If you want to plan activities and projects around UN World Toilet Day that students could be a part of, there is a specially crafted "Talking and Teaching Toilets" guide packed with activities for students.
Download the Schools Guide.
Share on Social Media
Join the global movement for toilets and sanitation for all, and raise awareness by posting on Facebook, Instagram, Google+, posting a Vine or tweeting this World Toilet Day. Raise your voice to call for action and use the hashtags #WorldToiletDay and #UrgentRun. And check out Facebook or Twitter for inspiration and content you can share. Together we can make a big splash this World Toilet Day!
Talking Toilets
What better opportunity to get conversations 'flowing' about the sanitation crisis than UN World Toilet Day?! Talk all things toilets and sanitation with your friends and family members. Help break the 'toilet taboo': have a conversation, send an email, tweet, send a text, post to Facebook, and raise awareness of the importance of action on sanitation.
Tell us what you're doing
We'd love to hear how you will raise a stink to commemorate UN World Toilet Day on 19 November. Share what you're doing: tweet @worldtoilet, email the WTO at online@worldtoilet.org or us at enquiries@btaloos.co.uk