Public Lavatories Bill unanimously passes second reading in Parliament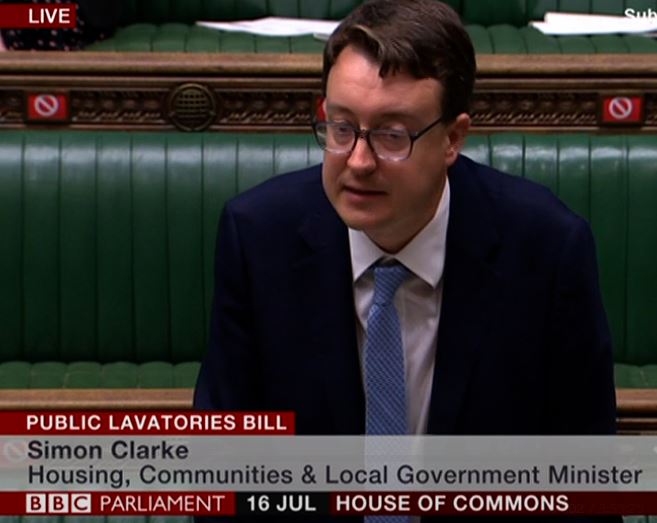 Minister Simon Clarke MP, from the Ministry of Housing, Communities and Local Government presents the Non-Domestic Rating (Public Lavatories) Bill 2019-2021 to the House of Commons today. The Bill received unanimous approval, for adoption, by the ministers present. When brought into legislation it will effectively remove the levy of (NDR) Rates from all "stand-alone" public toilets in England and Wales. The devolved administrations will be expected to adopt the new Act.
The Hansard Transcript of the proceedings can be read in full by following this LINK:
https://hansard.parliament.uk/commons/2020-07-16/debates/3AE310E3-BBE8-43E7-80E3-966E083BF39C/Non-DomesticRating(PublicLavatories)Bill
The BTA is delighted to annoounce the long awaited progress of the NDR Bill to remove the rates levy from all "stand-alone" public toilets. Our founder and current President Richard Chisnell took up this baton in 2012 and it has been an arduous journey through the years to get to this point. In 2015 the BTA board agreed to make this relief a priority and Roger Berry took the lead in speaking to likeminded organisations and political colleagues to try and move the proposal forward.
October 2018 the Chancellor of the Exchequer Mr Philip Hammond announced, during his budget speech, in Parliament that he was introducing the NDR Public Lavatories Bill and following the Bill passsing through the House of Lords and the House of Commons we're almost there.
The Bill will now go forward immediately after the summer recess of Parliament and be laid before the House of Lords for their final approval before hopefully progressing to Royal Assent to become an Act of Parliament and enter into our Primary Legislation.
Local Authorities will be able to claim a FULL rates allowance relief on all Publicly Accessible Toilets under either their or even private control and use the monies saved to upgrade their services and provision of existing facilities. The minister thanked a number of organisations including the BTA, NALC and RSPH for their support and help in campaigning for this change in future legislation.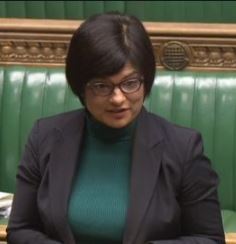 Thangam Debbonaire, the Shadow Secretary of State for Housing, lead those ministers present in congratulating Mr Clarke for presenting the Bill and the government for strongly supporting its immediate adoption – but suggested that there were still further enhancements called for. She agreed that this was a great first small but important step to retaining and restoring these essential buildings – but asked if government could look at the numbers of toilets lost over previous years and perhaps use some Covid emergency funding to redress the loss. Many public buildings, such as libraries, museums ansd civic centres were excluded under this pending legislation and she again asked if consideration might be given to how these additional local amenieties could be included, at some future juncture.
The Minister also proposed that, due to the keen support from many ministers and colleagues, that a working group should be established to look at the wider range of issue around provision of Public Toilets for all citizens, especially those with severe medical, emotional and physical conditions who relied daily on finding urgent relief when moving away from home. Ministers highlighted the plight of all those persons working away from their bases, lorry, coach, bus and taxi drivers and alos those in emergency services and social care who rely on these essential facilities. The Minister kindly thanked the BTA for providing some information and guidance on the essential and vital role played by publicly accessible toilets throughout society and the nation.
With the increased demands being placed upon these vital provisions following the easement of lockdown it is now critical that we see immediate investment in upgrading and reopening these frontline services. As we try to rebuild our local economies and invite tourism back to our towns and villages were have to invest time, money and expertise in getting our publicly accessible toilets hygienically cleaned and safe for use.
Both Minsters praised the national Changing Places programme and the work that BTA have been committed to with Muscular Dystrophy UK and Pamis in Scotland; in creating the CP Map and identifying potential new sites. Substantial funding of £30million has already been agreed to expand the reach of this programme and to greatly increase the number of sites where these specialised rooms can be best utilised.
The British Toilet Association wishes to thank all those individuals, groups and organisations who have worked closely with ourselves and our member organisations over the years to help bring about this relief legislation to local authorities.
We offer our special thanks to everyone who continues to fight tirelessly for the national retention of publicly accessible toilets and the future upgrading of our "away-from-home" toilets and the increasing standards of hygiene and provision — for ALL USERS.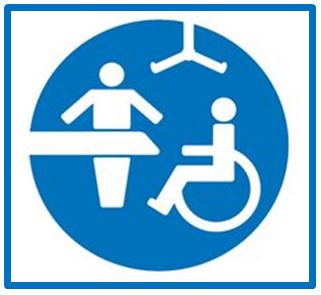 CHANGING PLACES CAMPAIGN
The BTA Director and the Board are fully committed to working with our colleagues in the Ministry of Housing, Communities & Local Government, Muscular Dystrophy and Pamis to support, maintain and expand the Changing Places Campaign, the CP Mapping System and the continued natonal drive for NEW facilities.